Placebo
Placebo is a series created by my alterego – Piros. It is a series that you bump into on the street. It is a street art influenced by classical painting and graphic design. I mostly draw figures, shapes, elements in various aggregate states using all the techniques: spray, brushes, pens…
It all started back in 2005, when I started to paint big walls. After years of working on this series, it is slowly gaining its full meaning and importance.
Arilje, 2021.
SPRAY OF SOUND 001 | Piros vs. Knower
Projekat SPRAY OF SOUND predstavlja kolaboraciju sa dj Knower-om. Ideja ove krativne saradnje bila je da ujedinimo street art i muziku i tako stvorimo vizuelno-zvučni kolaž. Muzika prati proces crtanja, a crtanje povećava dinamiku zvuka.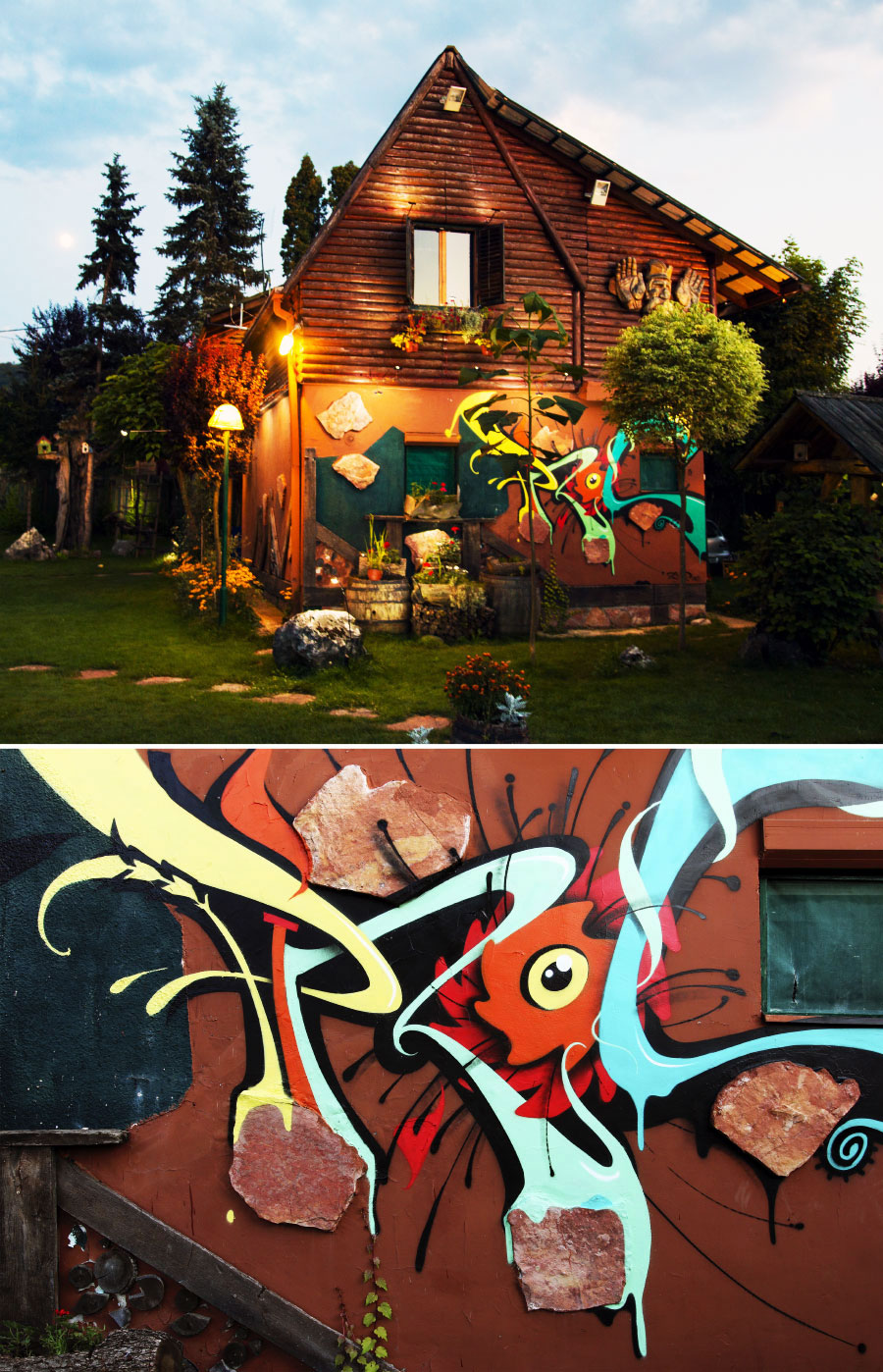 Teretana Sky Gym, Kurševac, 2021.
Vreme je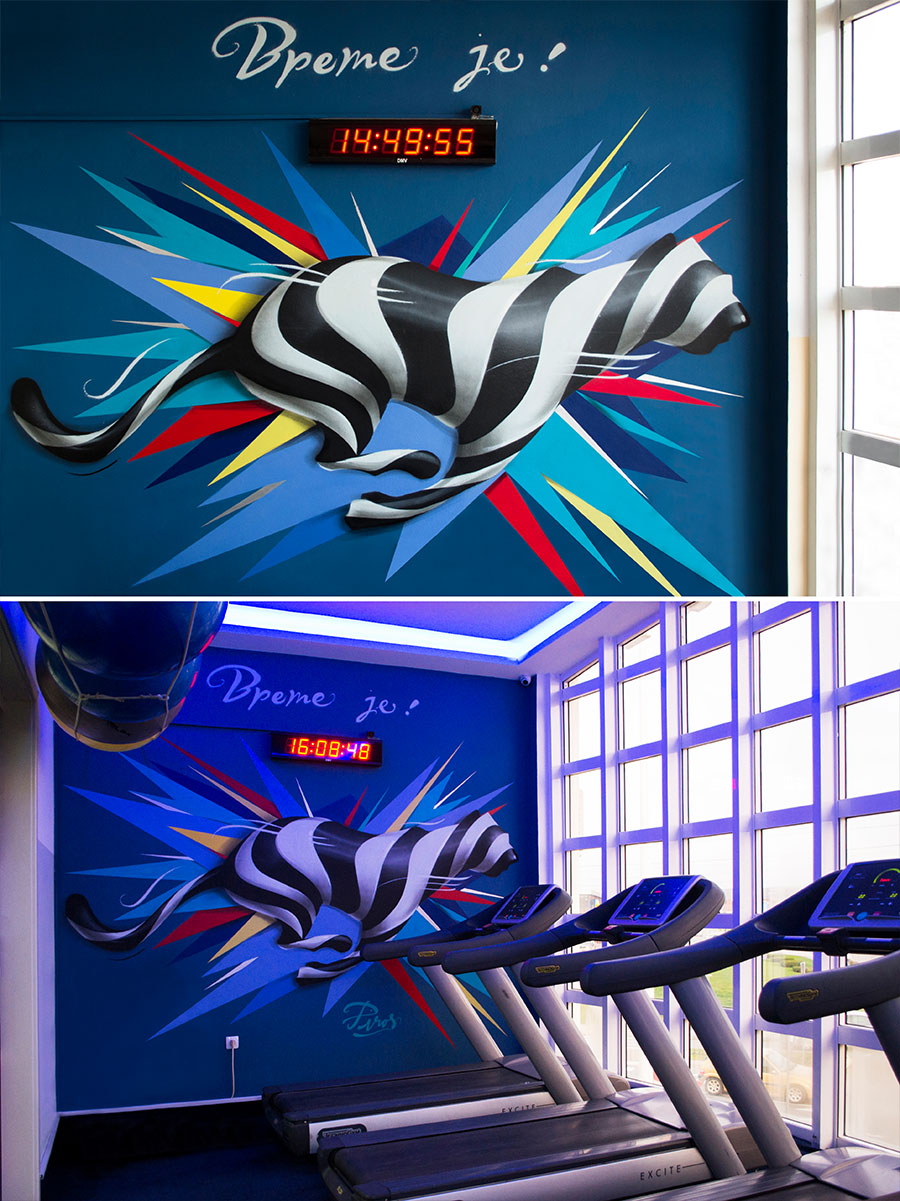 Beograd, 2018.
Tako je Džamutka otkrila vatru
Jedan od najstarijih i najznačajnijih motiva koji se provlači kroz skoro sve faze mog stvaranja je Džamutka.
"Džamutka is a motive that we can follow in his artwork almost from the beginning. But this creature has been changing and improving and got almost mythical properties in the later years...
In the final stages of development Džamutka became somewhat a mythical creature. She discovers the fire like in this piece or she discovers the color like in the large mural executed for the Runaway festival in Belgrade in 2017. Džamutka is a creature made of a bird and a bee, for its author it represents all the best in this world – extreme dedication and ability to fly. And if pushed to the limits it can sting. The name was derived from the Roma dialect in which it has a meaning of curse word but it can also mean something frightful and unseen. Therefore Džamutka can be everything and nothing and exactly this contradiction can infuse all sorts of traits in her. A stylistic property that Piros has been employing in his artworks in the recent years is the contrasting of 2D background and 3D character. Even though there is tendency to put a whole scene in three dimensions, it is very obvious that the only thing in 3D is Džamutka."
Ljiljana Radošević
Belgrade, 2018
It's all just one big placebo!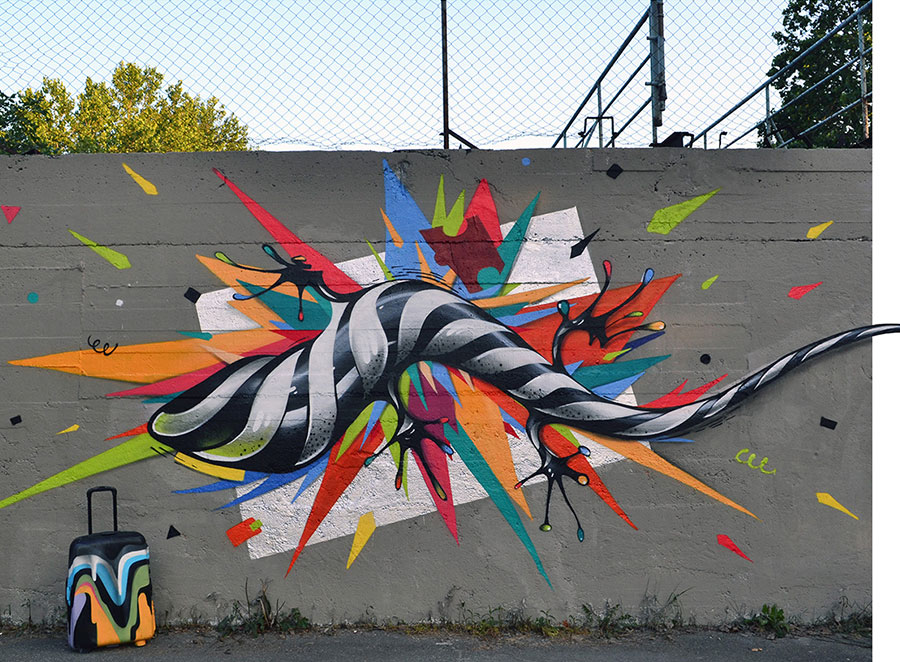 Kralj Petar Prvi Elementary School, Belgrade, 2019
Festival Rekonstrukcija
At the very same place (backyard of the Kralj Petar I elementary school) 20 years ago was held the first graffiti jam (collective painting) in Serbia. Besides being an important anniversary, I consider this festival also to be an important moment in the history of art for the new generation of the graffiti and street artists.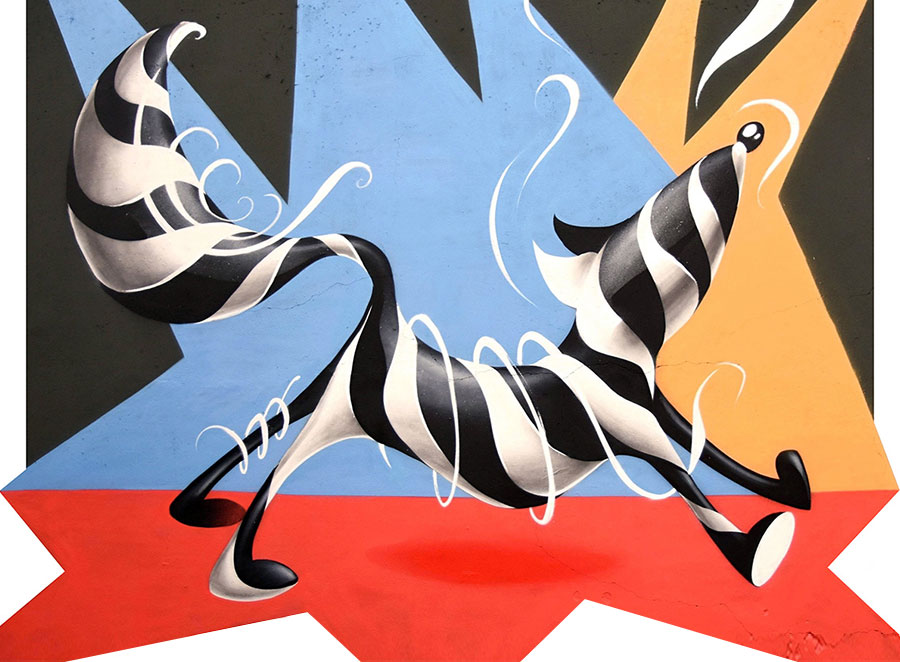 Bežanijska kosa, Belgrade, 2018
Wishtree
The idea was to draw my very own "Wishing Tree" and to make an important wish. I advice the same to anyone else who has some big wish: go find this tree and try it out - but keep on mind that you can make only one wish 😉 Time will show if my seedlings has succeeded!
Wall dimensions are 13m x 6m . The whole mural, both upper and lower part, takes more than 100 m2 and it took me 25 hours, preparation included, to finish it.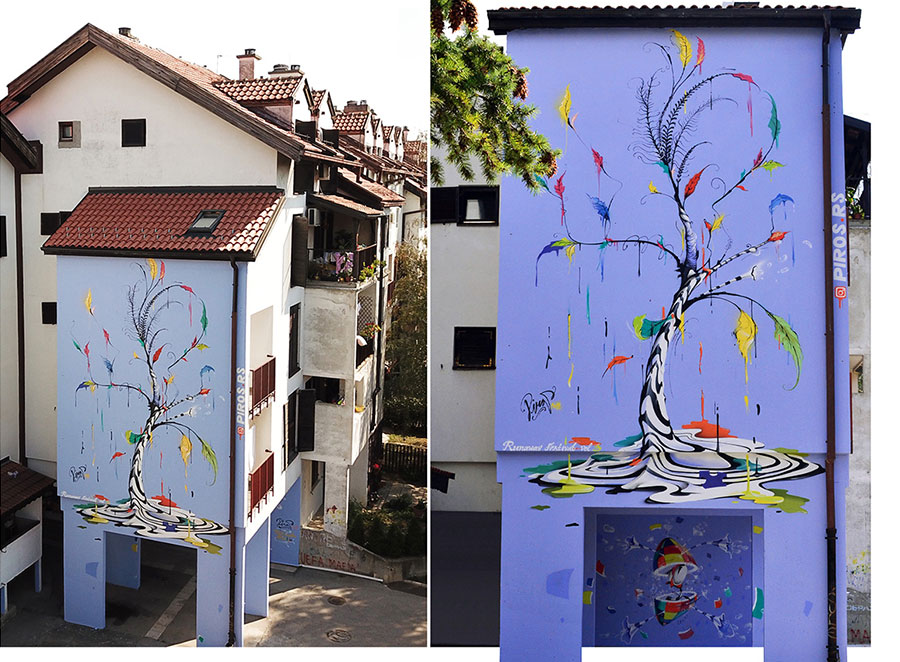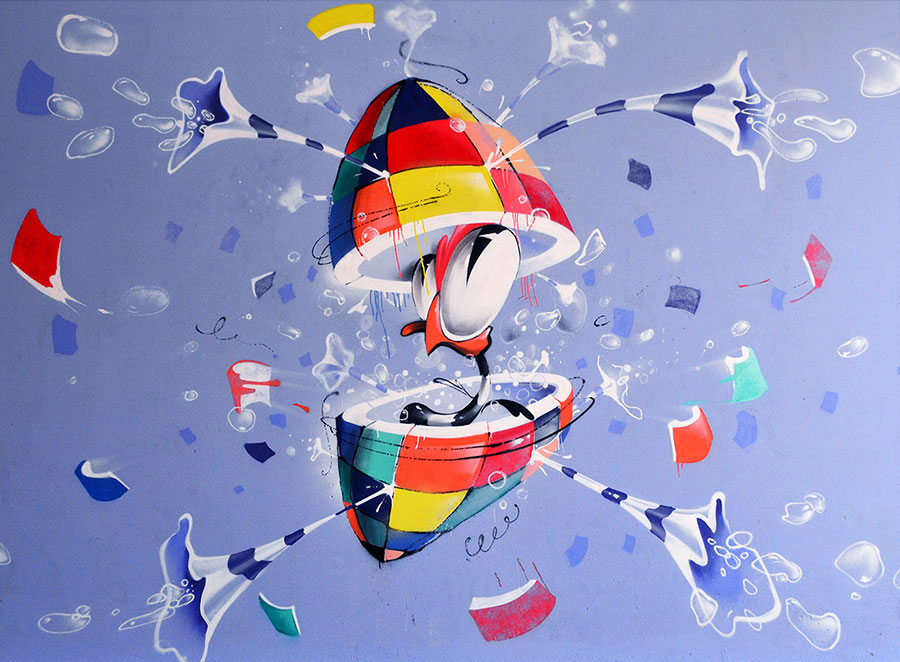 Kruševac, 2017
Alternative Cultural Center - The Nest
It gives me great pleasure to present to you my most cherished project, at the same time the biggest I have done so far.
Big thanks to the hosts Katja and Nele for making this possible.
It took us 10 days to finish the project, with the help of a lot of friends and volunteers, to whom I give my gratitude. The surfaces we painted sums up to 500 m2. The building was designed in the 70s by the architect Adam Topličanin. It is situated at the bank of Rasina river in Kruševac .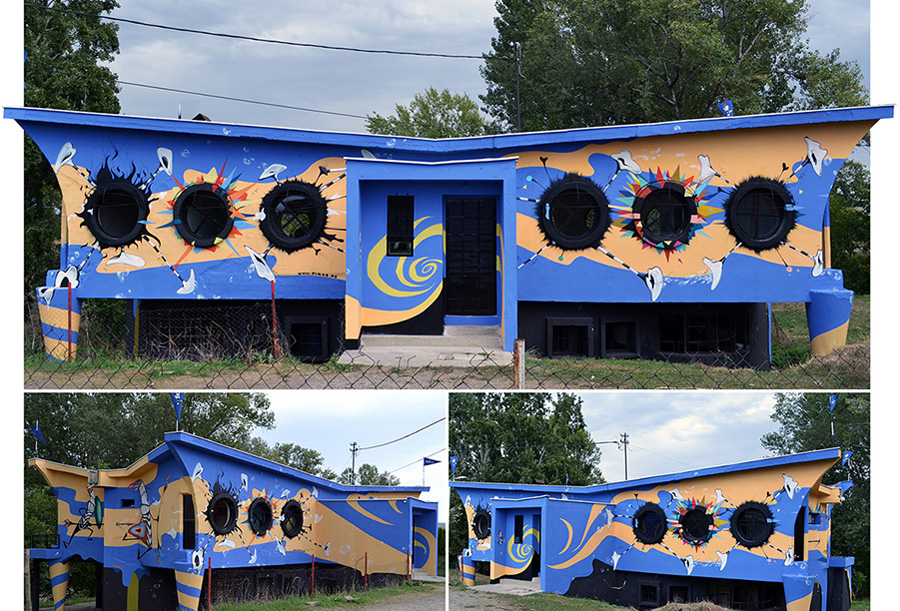 It was quite a challenge to face this building. My idea was to put in motion, and to tell a story through it. I believe that this will serve as a great inspiration, and a proper starting point for all kinds of magic to be brewed inside. This magic will then motivate the people to become more eccentric, creative and open minded towards urban modern culture.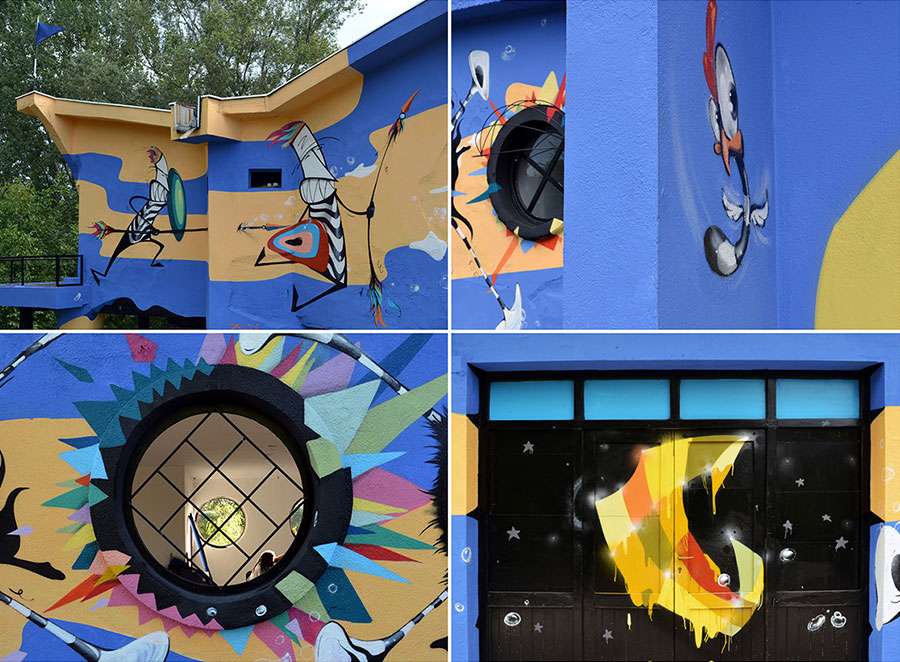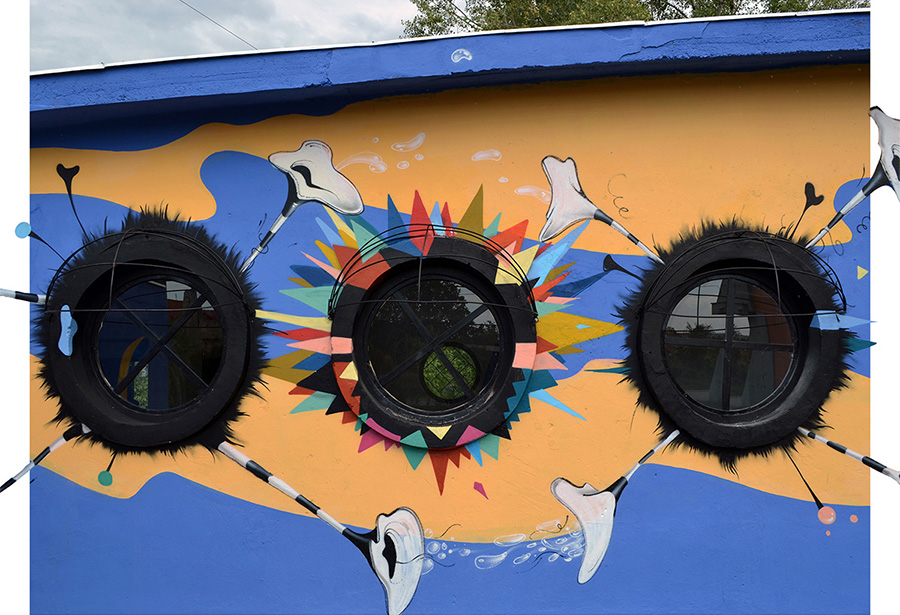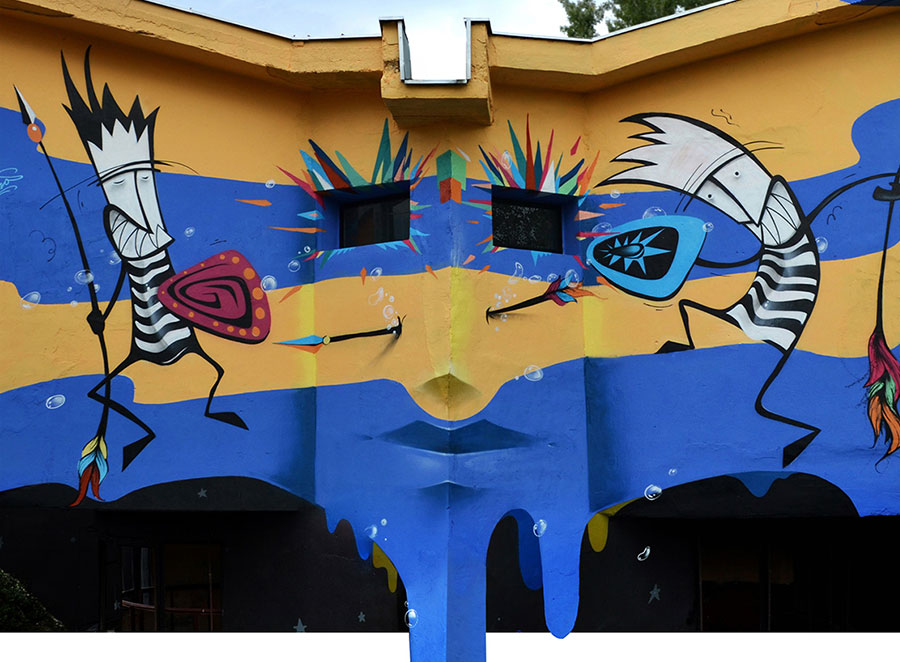 Ciglana, Belgrade, 2017 and 2019
DEV9T Festival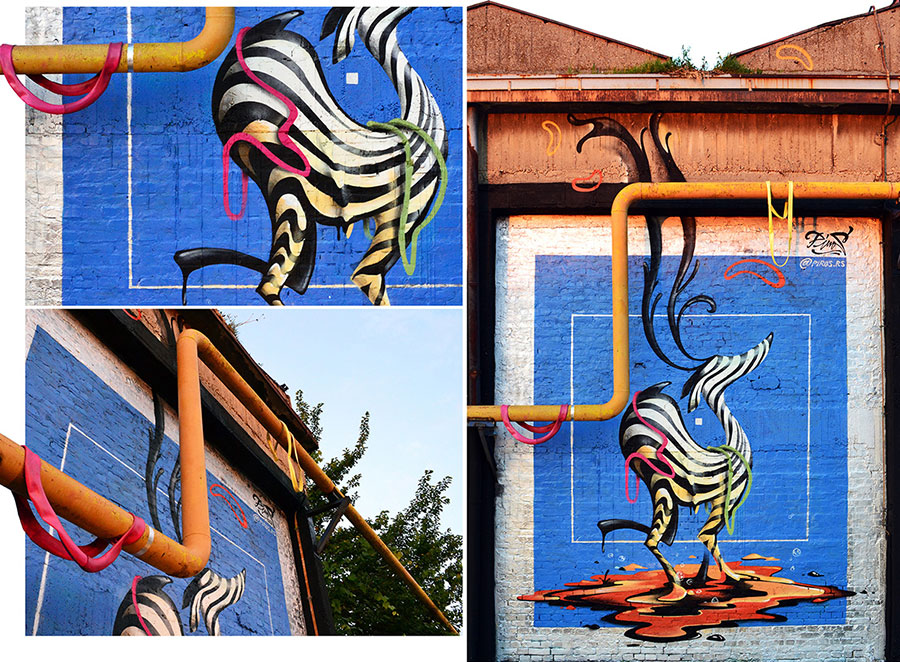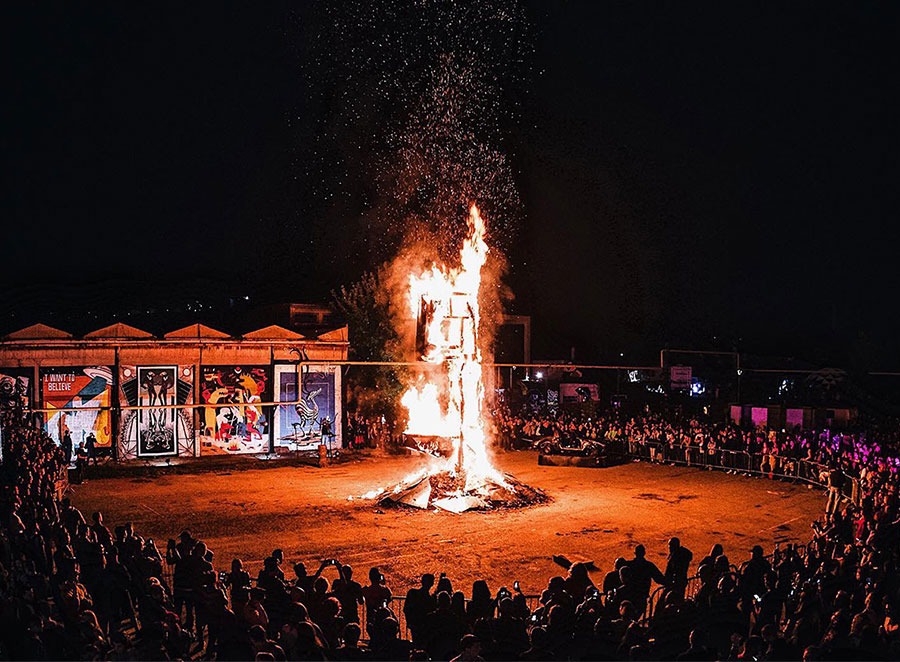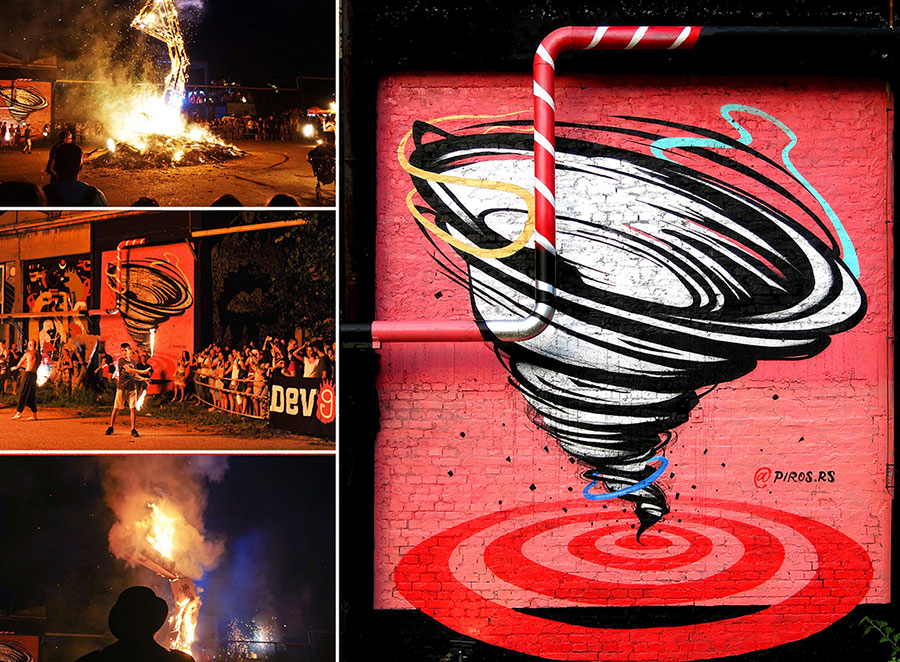 Photo: Ružica Milovanović i Igor Svetel
Budva, 2018.
Budva Fondation
The main purpose of this project is to spread the negative attitude of young people towards improper construction,
unplanned urbanism and irresponsible behaviour of humanity towards nature and its resources.
My idea was to present it through the color scheme (green vs. black and white) and an analogy (domino effect as a result of a conflict of nature and humanity).
Wall dimensions are10.7m x 6.6m and it took me 20 hours, preparation not included, to finish it.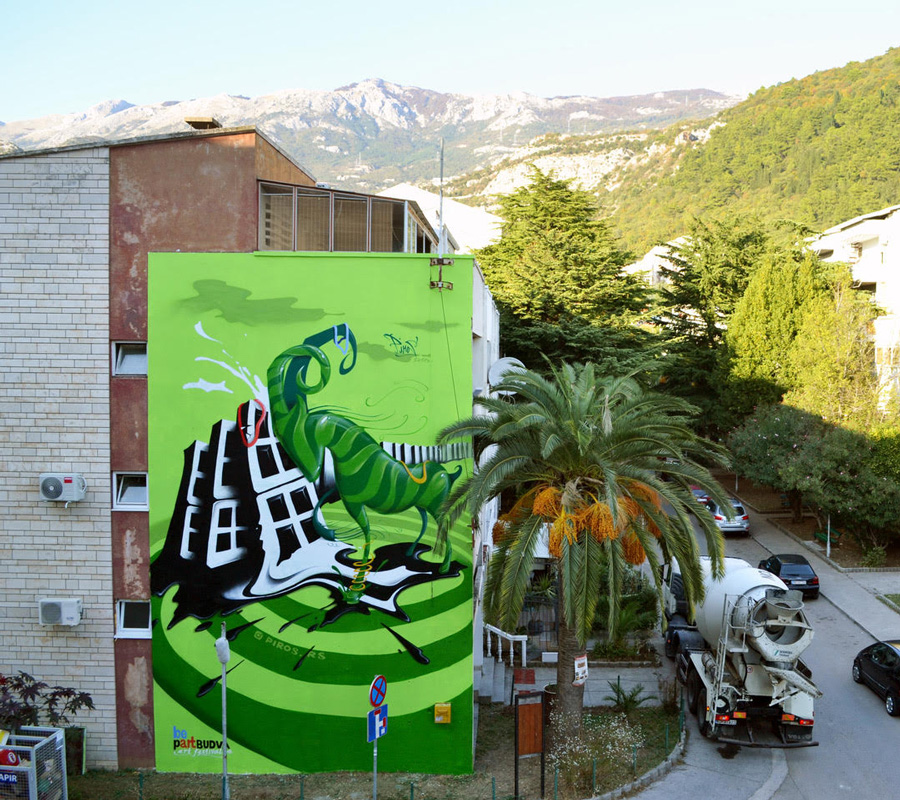 Belgrade, 2017
Burning a Billion
Burning a Billion is my first performance. I wanted, in my own way, to express criticism towards system of values and to demonstrate a new approach to street art.
Thanks to Nikola Pazarski for first-class video production, editing and photography.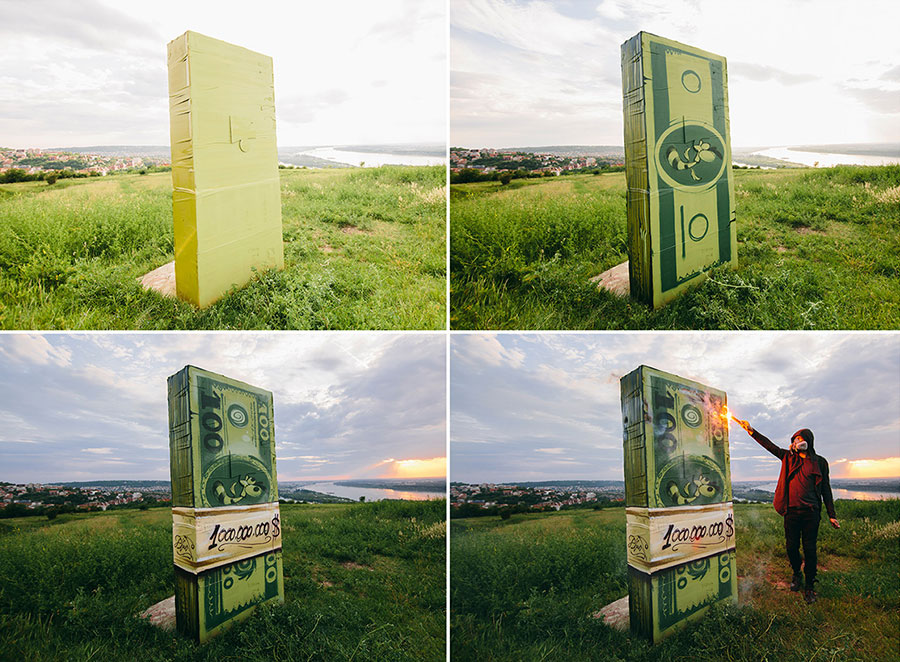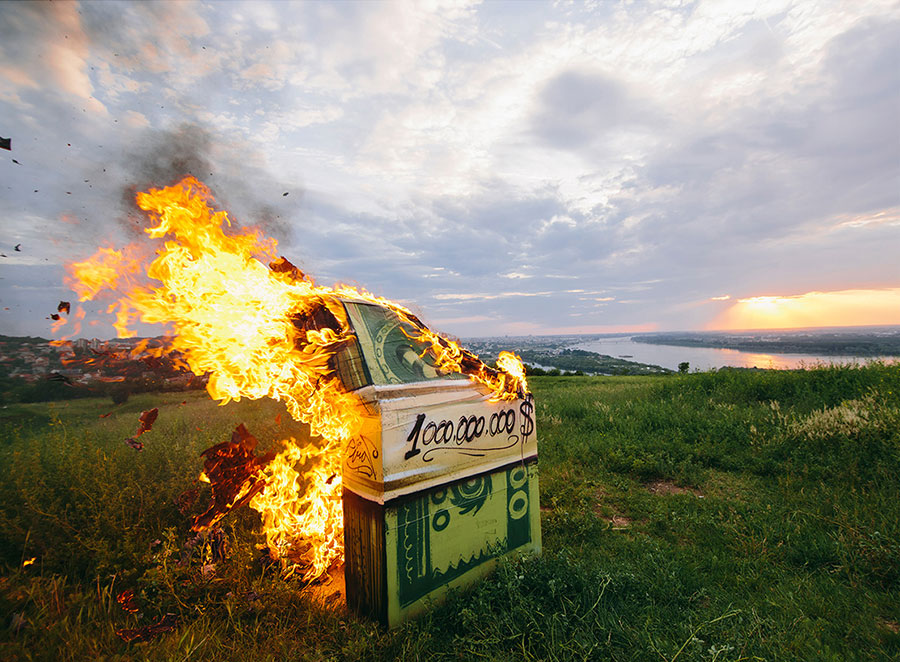 Photo & video: Nikola Pazarski
New Belgrade, 2018
Belgrade Philharmonic Orchestra
This is my way to honor the Belgrade Philharmonic Orchestra. Mural is painted on the foundation of the never-built Museum of Revolution. On that same place the BPO each year holds a concert.
Wall dimensions are 17m x 2.5m and it took me 24 hours to finish it.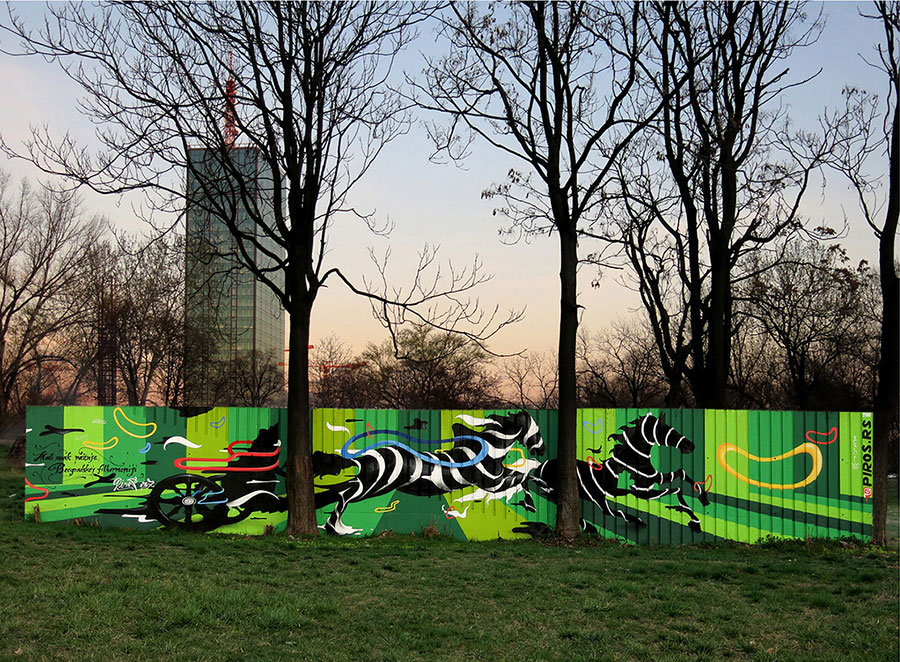 Belgrade, 2018
Riders on the storm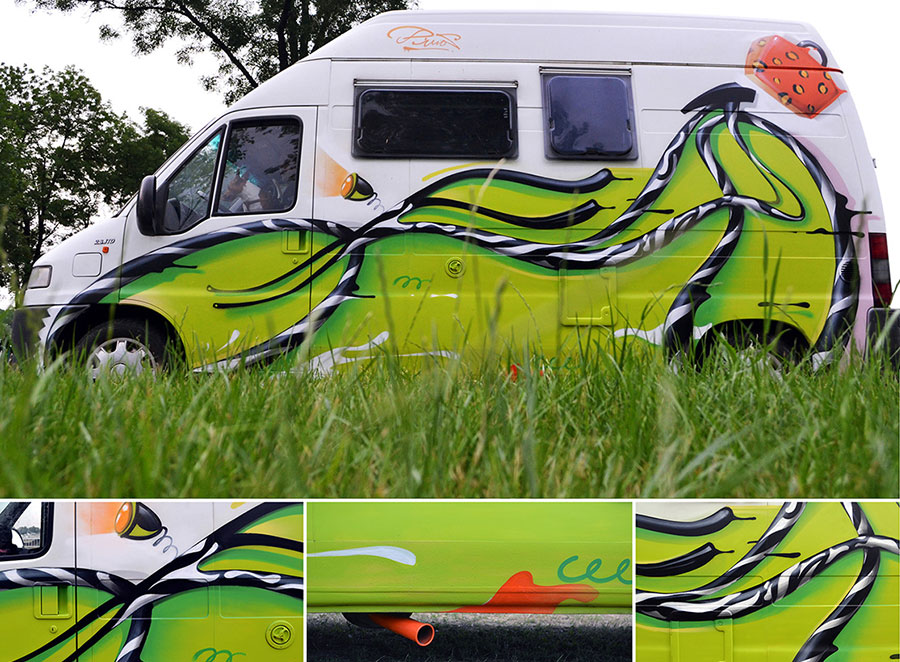 Banjaluka, 2013
Flaster Jam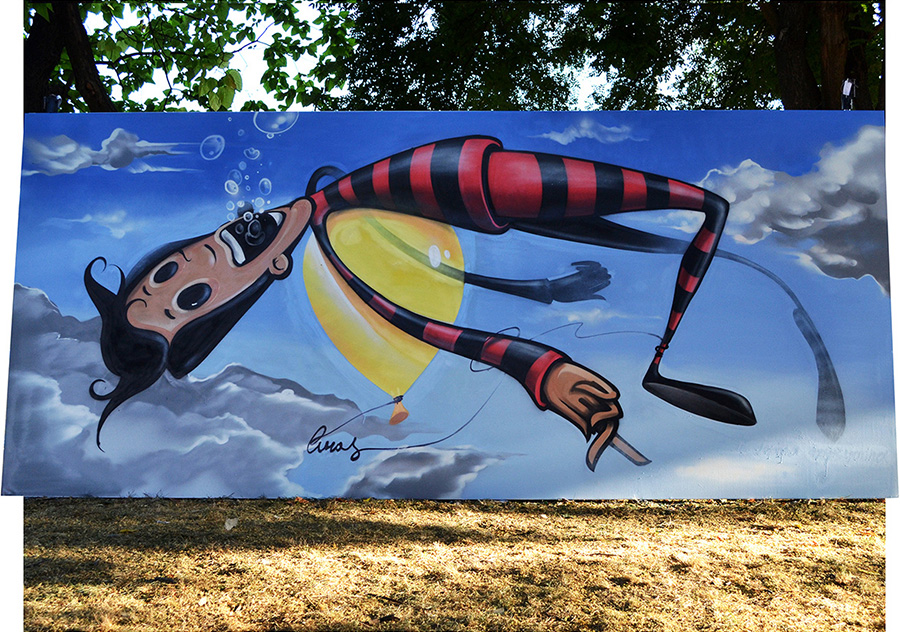 Kraljevo, 2016
It's all just one big placebo!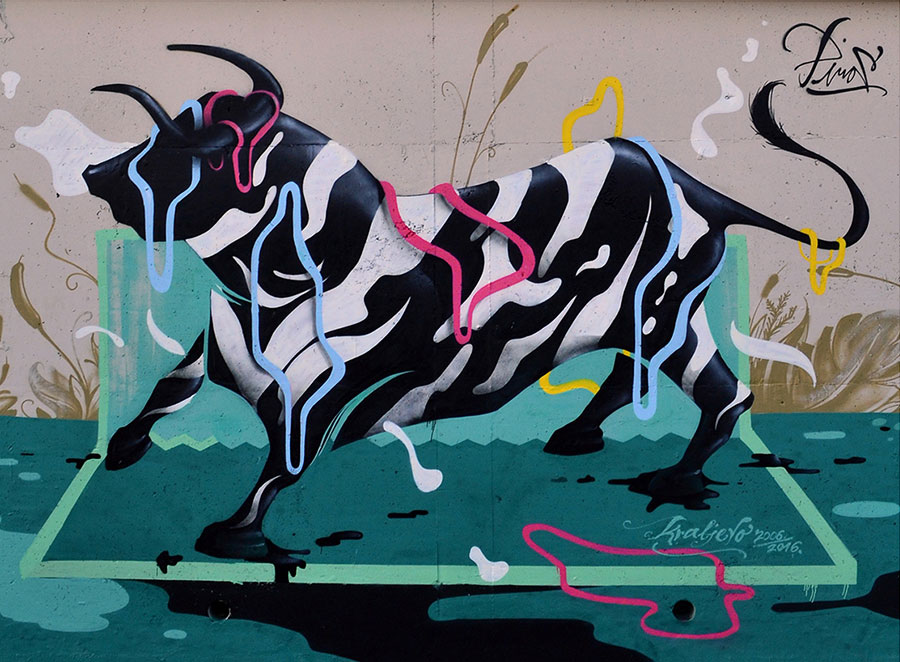 Zemun, 2015
My part of the Magic Forest mural
The Magic Forest is one of the largest murals in Belgrade, and it is located in the school yard of the Lazar Savatić Elementary School in Zemun. I had the honor of spraying together with 11 other great domestic and foreign artists: Arsek, Erase, Malaccai, Artez, Corte, Junk, Monsta, Sebas Velasco, Resto, Seck and Pijanista.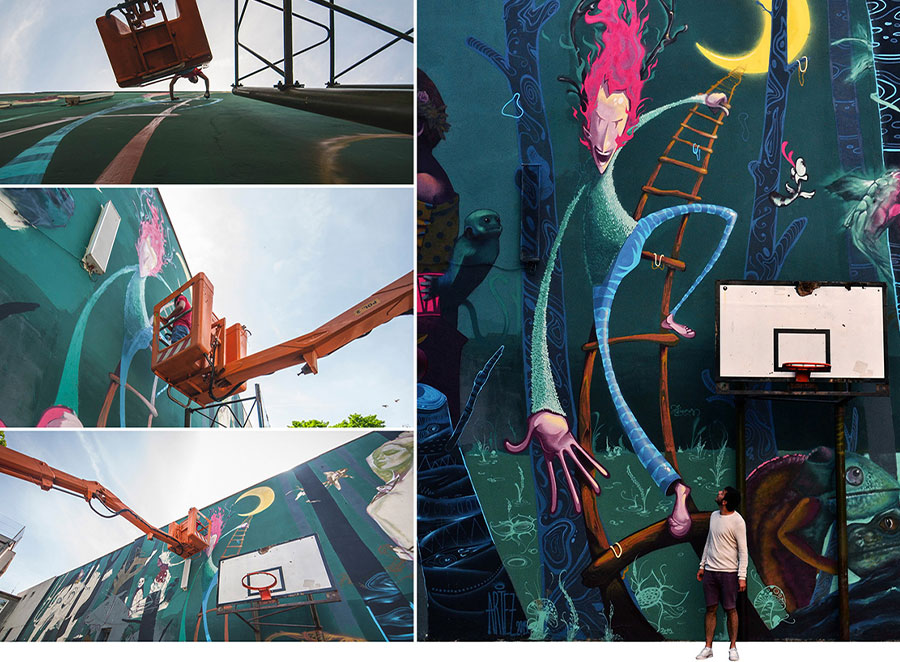 Beograd, 2018.
Everyone is seeking for their own happiness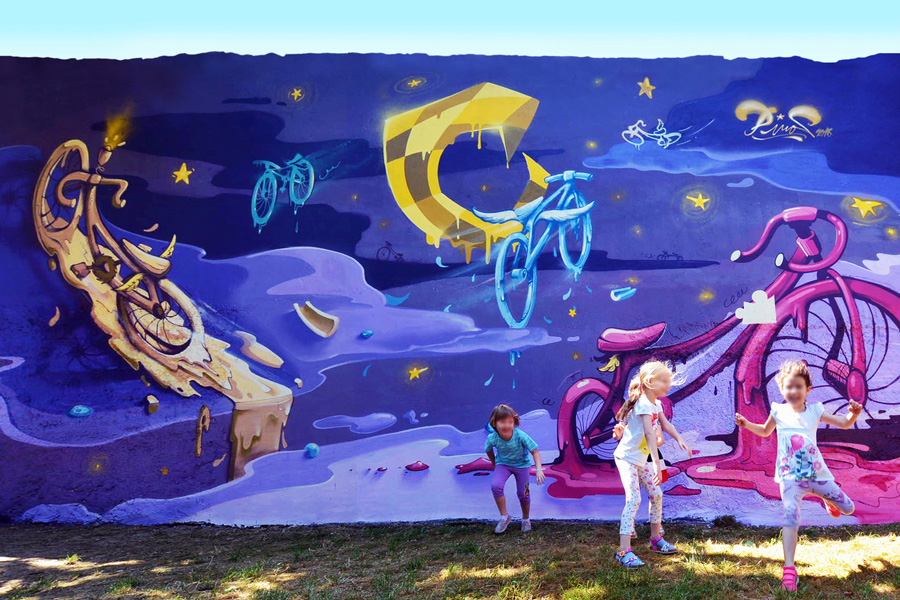 Photo: Ružica Milovanović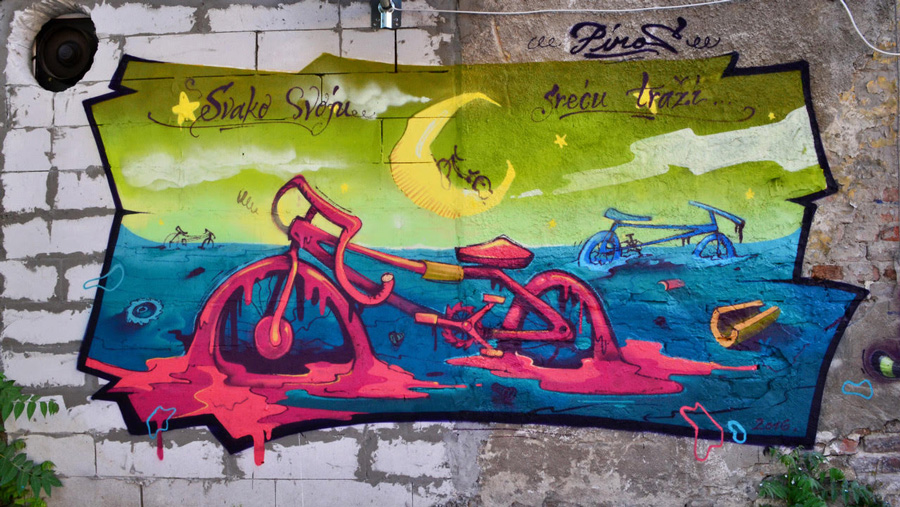 Days of Urban Culture, Čačak, 2015
Hedonist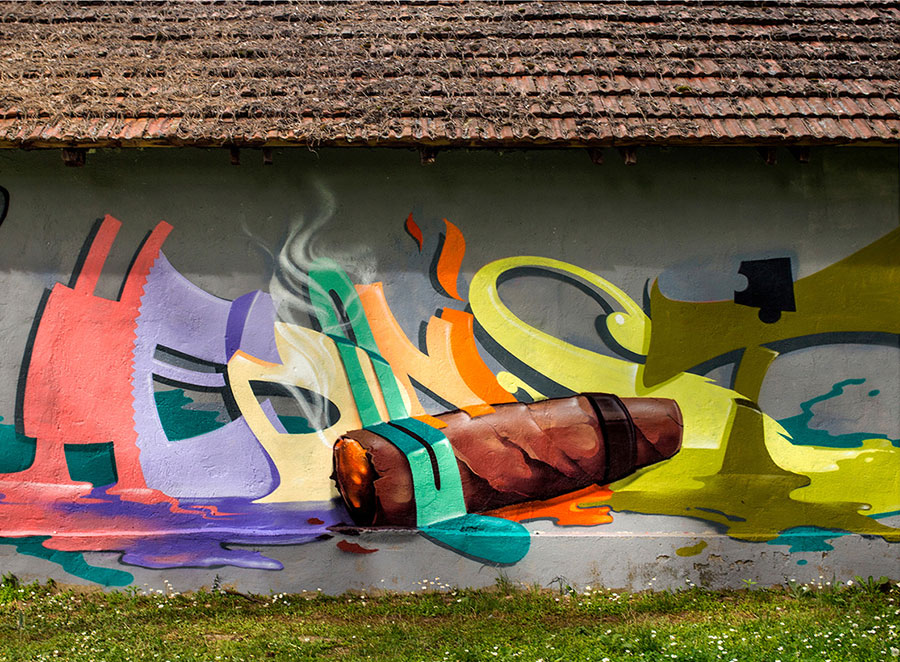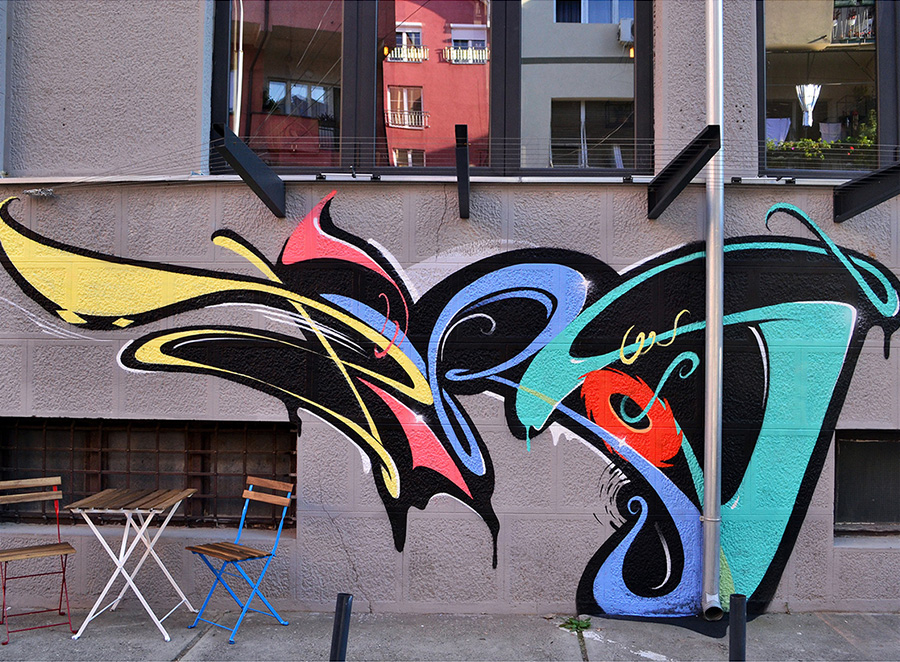 Cetinjska, Belgrade, 2019
Feel the music